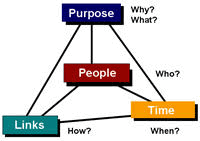 90% People, 10% Technology:
The Secret to Successful Virtual Teams
For twenty-five years, we've provided insight and research into key success factors of virtual teams and networked organizations. Working with hundreds of companies and non-profits, we've learned where to focus: on people rather than technology, on the human side rather than the tools.
We offer methods, education, strategic designs, and technologies that enable our clients to work more effectively--better than they ever have before--in boundary-crossing organizations.
Comprises: Frameworks and Models; Workshop and Train-the-Trainer materials; Assessments, Exercises, and Diagnostics; and Technology
Rests on four core principles: People, Purpose, Links, and Time
Customized with client for delivery by internal service organization
Used by GE, Roche, Shell, Apple, Pfizer, Merck, Qantas, Hewlett-Packard, NCR, "International Financial Services Firm," US government agencies, US Army, United Nations, Volvo
Currently in adaptation for American Management Association's course on "Leading Virtual and Remote Teams"
Virtual Team Methodology supports virtual team training, assessment, and technology